Caitlin was a recent college graduate with a degree in photography, but she felt like there was more to life than just taking wedding pictures. She didn't know it yet, but God was going to use her lens to display the plight of the people of Haiti. God opened the door for her to spend six months taking photos, assisting our missionaries, teaching children English and observing astonishing poverty firsthand. Today her work is being used to raise funds to keep our missionaries onsite, where they can continue to reach and serve the nation of Haiti. Caitlin is a Hyphen.
The hyphen represents a connection between two concepts. This little line serves to fuse together words so that their meanings are altered and a new thought emerges. The "Be A Hyphen" campaign seeks to celebrate Pentecostal young adults that are connecting to their worlds and in the process creating positive change.
So many Apostolic Hyphens are doing great things, and too often these stories are never told. We know that ministry isn't just limited to the pulpit, so help us expand the reach of the church by sharing your Godly achievements. Let your good works "provoke good works in others" (Heb. 10:24). Caitlin altered Haiti by sharing her talents, but Haiti changed Caitlin. Hyphens alter their world, but through that experience they are in turn forever changed for the better.
Be inspired. Be more. Be a Hyphen.
---
Share your hyphen story! #beahyphen
Tell us how you've been a Hyphen. Share a quick story, an idea, or a thought that you want to process. We want the world to know.
---
Emma Snow | Oak Creek, Wisconsin
I think Paul wrote what should be the Hyphen anthem, "Do not conform any longer to the pattern of this world, but be transformed by the renewing of your mind. Then you will be able to test and approve what God's will is- his good, pleasing, and perfect will." (Romans 12:2 NIV). As God's children we have the amazing opportunity to not only discover His will for our lives, but as Hyphen, to actually live it out. The age group that we are in allows us a special amount of freedom and opportunity that other generations do not have. I have no doubt He is working in the background, and that He has us in a season of preparation for what lies ahead.
Joshua Hernandez | Lodi, California
We are living in such a critical time in history. The earth is groaning in anticipation as it awaits the rapture of the church and the second coming of Jesus Christ. It is important now more than ever to hold fast to absolute Biblical truths, and as a Hyphen, present those truths to a generation and culture of young adults who have become weary of the concept of organized religion, but are open to the person of Jesus and how he relates to their everyday lives, careers, relationships, and futures. The tasks of reaching this generation of young adults is great, but God has enabled us for such a time as this.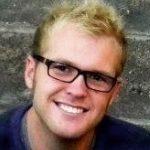 Ben Sternecker | Elk Mound, Wisconsin
To me, being a hyphen means being a leader in today's society. At this age, we have so many directions and opportunities available to us and so many people we are able to reach because of it. The ability to connect with college-aged students is a necessity in our world today, as it is easy for God to get lost in the jumble of everything else. Being part of the hyphen network has been a life changing experience for me that has opened so many doors for me to witness to others and strengthen my walk with God. I am part of the most influential generation of our world. I am part of the generation that will change our world. I am Hyphen.